Policies
Return policy:
Each handwoven piece is unique, carefully designed, handwoven and hand-finished, and therefore the sale of each item is final. However, we want our customers to be happy with their handwovens. If you are unhappy with your purchase, please contact Firecrow Handwovens within one week of receiving it, to work something out, such as an exchange for something of similar value.
Shipping:
Items in stock usually ship in 2-3 business days and are sent via USPS Priority Mail. Please note that colors may appear slightly different from their corresponding website photos as computer screens vary.
Shipping usually runs $6-18 depending upon the weight of your purchase(s). Each item is individually wrapped and carefully protected within its box.*
Custom Orders:
Production time for custom handwoven pieces is usually 2-3 weeks, with the exception of September-December when we are busy traveling to shows. Most custom work is woven between January and April of each calendar year. Please remember that custom orders may require extended production time if they are complex or requiring fibers we don't regularly stock. We'll communicate variations in production time in order to meet expectations as needed. *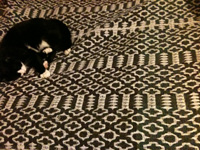 *All policies subject to change.
Wholesale Orders & Inquiries:
Please contact Firecrow Handwovens directly by phone at (413) 522-0358 or email (kathy@firecrowhandwovens.com) with wholesale inquiries. Minimum order is 20 pieces; limited to what is in current stock for first time orders. Wholesale customers of two years or more may consider discussing custom handwovens based on their specific clientele and desires for new/unusual work.